The Raw Food Diet at Legacy Miniature Schnauzers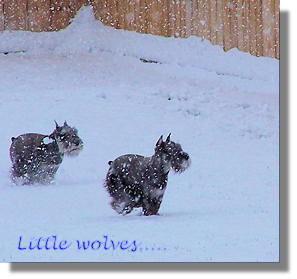 We thought long and hard, and researched diligently before switching to a raw food diet for our dogs. Our first involvement was to experiment with a couple of the dogs, and seeing that the results were positive, all our dogs were moved to the raw diet, beginning at the point they were weaned. The specific objectives we were looking for in a diet were successfully resolved by the move to raw food. One of the arguments that kept impressing us is the notion that dogs have evolved for millennia on this kind of diet; the introduction of kibble food only occurred some 60 years ago, and seems primarily to have been initiated for the convenience of human owners.
Our first experience was with a commercial raw food product that did not include a full product analysis, which was a bit unsettling. Since then, we came across a new producer of a truly premium product in frozen form. Feeding a raw food diet to your dogs will be more expensive if you buy a commercial product, or more labor intensive if you produce your own. However, if you want the very best for your pet or your show dog, we are convinced that the raw food diet is best in the long run, both in terms of expense and the health of your dog.
Some of the results we have noticed from our anecdotal experience are: a happier dog with more energy, better coats, more muscle, great appetites, healthier skin, smaller and more firm stools and easier whelping by pregnant bitches. In addition to the raw commercial product, we feed raw chicken wings or turkey/duck necks several times a week and our dogs have no tartar buildup on their teeth, and the teeth are pearly white.
We subsequently decided to become a distributor of a premium frozen dog food. That meant we could order large shipments of the frozen product and save on shipping costs, as well as provide a source of the product for local dog owners. Later on, we added another complement to our diet program: Nature's Farmacy Dogzymes Digestive Enhancer, which we also have in stock for sale. If you wish to discuss the issues of feeding raw food to your pet, call or write Patty at:
Patty Ledgerwood
2813 N. Road 92
Pasco, WA 99301-1577
(509) 544-9350
email:
patty@legacyms.com
Copyright © 1996 Legacy Miniature Schnauzers
All Rights Reserved Web pages designed and maintained by LegacyMS.
Last updated: Monday, February 18, 2008