Fun stuff

Watch Legacy's Mackay "Mac" do the evening news on Portland, OR channel 2 KATU's "Bring Your Dog To Work Day". Click on the image for this hilarious brief video! (13 Mb .wmv file)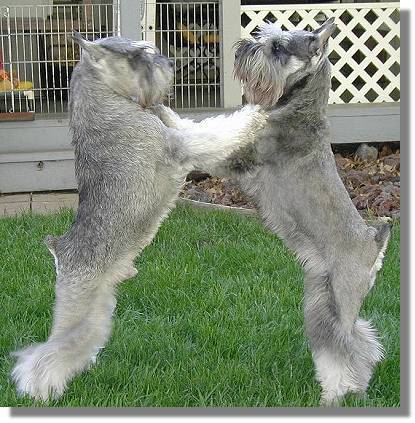 This is known as the "Schnauzer dance".

Miniature Schnauzers fight over Barney the Dinosaur™

Mackay's story -

click image to see.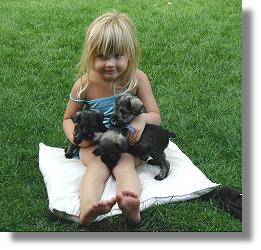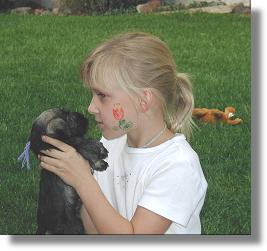 It's always fun to have neighborhood kids over to play with pups so the pups will become familiar with children. We always have a cat around also - cats are cool too.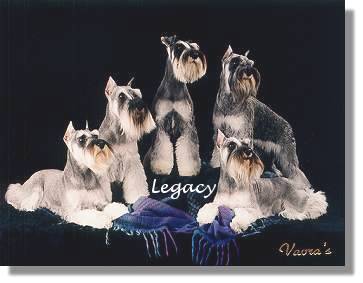 This is a wonderful group shot of the earliest Legacy dogs, taken by photographer Vavra of Gates, OR. The original print was an award winning entry in a photography competition which we later acquired from Vavra and it now hangs in our family room. The dogs are, clockwise from left: CH Legacy's Outrageous Attitude (Tudy), CH Sathgate Outrageous (Rage), Legacy's Justice For All (Justy), CH Legacy's Ready-Aim-Fire (Ready) and CH Sathgate Risque (Katie). Rage and Katie are our foundation dogs.
Copyright © 1996 Legacy Miniature Schnauzers
All Rights Reserved Web pages designed and maintained by LegacyMS.
Last updated: Monday, February 18, 2008