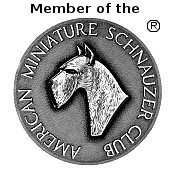 Learn to groom your Miniature Schnauzer the correct way!!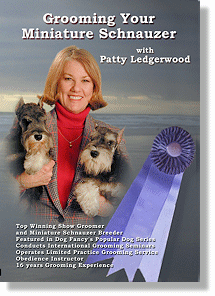 A grooming DVD for your Miniature Schnauzer pet! 75 minutes of grooming instruction presented by top-winning show groomer and Miniature Schnauzer breeder Patty Ledgerwood. Professional videography by LightCurve, LLC features beautiful close-up shots and a menu-driven DVD format. Grooming instruction is presented according to the standard defined by the American Kennel Club's national breed club, the American Miniature Schnauzer Club. Click link below for more information and ordering, and see customer comments.
Reviewed by Video Librarian and given a three star rating and "Recommended" status!
Click here for Grooming Video Information and Ordering
From Video Librarian: "Of course you'd really have to love dogs to be a groomer, but when Patty Ledgerwood, a breeder of Miniature Schnauzers, discusses "how to press the anal glands" - with the helpful reminder to move your head in order to avoid some of the oozing - the weaker-kneed pet owners might gladly decide to opt for professional care. This straightforward how-to begins with a look at the equipment needed - Ledgerwood touts name-brand preferences, which may be helpful for getting novices started - followed by demonstrations of shampooing and drying, clipping, grooming the ears (cropped and natural), cutting the hair between the paw pads, working with the groin area on a male dog, scissoring, "fine tuning the groom," and caring for nails and teeth. She thankfully doesn't include information on how to color pet hair (a service advertised by a local groomer) or paint the dog's nails, and obviously much of the information here could be adapted for use on other breeds. Personally, however, I think I'll stick to self-cleaning pets: cats are a lot less maintenance. Recommended."
We are also a distributor of a premium raw food diet for dogs.
Click here to visit Legacy's web page on the raw food diet.
Some of the results we have noticed from our anecdotal experience are: a happier dog with more energy, better coats, more muscle, great appetites, healthier skin, smaller and more firm stools and easier whelping by pregnant bitches. In addition to the raw commercial product, we feed raw chicken wings or turkey/duck necks several times a week and our dogs have no tartar buildup on their teeth, and the teeth are pearly white.
Legacy's Mini-Videos (Click here to see our video archive)
We will be adding these short feature videos from time to time, on a variety of subjects. Some will be about puppies, some will be educational and some will be just for fun. Four current videos are slotted for the webpage, with an archive to past videos. To peruse the archive, click the archive link above.

Click on one of the four videos below - a new YouTube tab will open. Content suggestions may be sent to us at patty@legacyms.com.
| | |
| --- | --- |
| Snowday!! We had four new inches of snow and the dogs LOVE to play in the snow. These are our pet dog Mikey (1 1/2 years old) and four show prospect puppies at six months age. Makes you wish, for the moment, you could be one of them and take part in the fun. In the first part, Mikey caught the scent of his favorite bone, turns around, digs in the snow and finds it. Amazing. | Showdogs at Play These two show dogs (Miniature Schnauzers) love each other's company and spend most of their days playing like this. A boarding dog tries to join the fun, with no luck. |
| The Water Follies You say Schnauzers don't like water? Nobody ever told these guys that. It's 80 degrees on a perfect June day, 2011, and Patty was hosing down the patio when her hose water was attacked by a band of Mini Schnauzers who were on the prowl for mischief. Watch how fast some of them can bite at that water creature! | Puppy Playpen Patty set up this extended playpen/obstacle course for the puppies. It introduces them to a plethora of sights, sounds, textures, scents and obstacles to help build their confidence for anything they might encounter in their lives. They like it so well they could probably spend all day in it. At other times, they're loose in our big backyard developing their running muscles. |
…...and some of our Showdogs!
Two littermate puppies finish Championships at Rose City Classic, Portland, OR, January, 2018!






New male champion CH Legacy's Here Comes The Son (Sonny)

Sonny started his show career Sept. 29, 2017 as a 7 month old puppy and promptly won his required two majors in his first two shows! He then won a 5-point major at the Portland Miniature Schnauzer Club Specialty to finish his championship. He's bred from sire GCH Sparx Sun Worshipper and dam CH Legacy's I Did It My Wei. See Pedigree (PDF)






New female champion CH Legacy's Pop Star (Poppy)

Poppy had 6 points coming to Portland and won a 5-point and a 4-point major to finish her championship at the Rose City Classic. She is a littermate of Sonny. Poppy is the 2nd natural-eared champion we've had and, at 11 months age, is a compact, robust girl we hope will produce well.




These two girls recently finished their championships


CH Legacy's Pohlcat (Kitty) finishes her AKC championship at the Spokane, WA shows in May, 2016. She is another daughter (with Ellie) from our Silver GCH Legacy's Pohl Dancer Of Tomar.





New girl CH Legacy's Limited Edition (Ellie) finishes her AKC championship at Portland, OR in January, 2017. Ellie's parents are a couple of top-winning dogs, Silver GCH Regency's Playmaker X Silver GCH Legacy's Pohl Dancer Of Tomar. We look forward to some nice showdogs from her.

A new first for Legacy: two dogs finish their AKC championships on the same day, both at just over one year old! Umpqua Kennel Club, 11/13/14, Roseburg, OR, selected as Winners Dog and Winners Bitch


New male champion Legacy's Bazinga (Bazinga)

Bazinga wins a Terrier Group Second from the classes in September, 2014. He has gone Best of Breed over some Best In Show dogs and still has some growing to do. Bazinga had three major wins in his quest. He is out of GCHT omar's Captain Kirk X CH Legacy's Poison Ivy.


New female champion Legacy's I Did It My Wei (Frankie)

Frankie finished her championship with four major wins and finished on the same day as Bazinga. The two dogs love each other's company and play together constantly. They each have personality plus and can be seen in the video above, titled "Showdogs At Play".

Lola and Travis – from a few years back!


Silver Grand Champion Legacy's Pohl Dancer of Tomar ("Lola")

Lola is shown winning Best Of Opposite Sex at probably the largest Miniature Schnauzer show ever in the US, with some 160 Miniature Schnauzer showdogs entered, at the Purina Farms Event Center outside St. Louis, MO, May 9-12, 2013. This was the American Miniature Schnauzer Club's (AMSC) 2013 "Schnauzapalooza" event for its National Specialty show. From left to right are Judge Clay Coady, Patty, AMSC President John Constantine and a Purina Farms representative.


Am/Can CH Legacy's Time Traveler ("Travis")

At the Albany, OR shows, Travis finishes his AKC championship at 13 months age under Judge Linda Wells, with four major wins in only his 11th show. He is already producing some nice puppies with wonderful conformation and outgoing temperments. See pedigree (PDF)




…...and a special boy: Louie




Grand Champion Legacy's It's In The Bag ("Louie")

Ten month old puppy "Louie" is shown at left winning Best of Winners for a 5-point major at the Centennial State Miniature Schnauzer Specialty show in Denver, June 3, 2011, to finish his AKC championship in only one month, entered in five shows (all major shows), winning four of them. The four wins were three 4-point and one 5-point majors. Louie is shown at right winning one of the three 4-point major wins at the Beehive Cluster in Salt Lake City. It was Louie's first competitive event and he was Best of Winners in three of the four shows while proving he's a natural in the ring. He finished his Grand Champion title in February, 2012. Louie was sired by CH Tomar's The Fix Is In ("Bookie") and his dam is Legacy's Charisma ("Chrissy"). He is a wonderful dog around the house and just wants to play all the time. See Pedigree (PDF).

……and another special boy, Rocky









Grand Champion/Canadian Champion Legacy's Rock Around The Clock, "Rocky"

Multi-Best-In-Specialty-Show winner AM./CAN. CH Legacy's Rock Around The Clock (CH Legacy's Rockin' Robin X CH Legacy's Stand By Me), "Rocky", spent not quite two months in Canada and in that short time became the number three miniature schnauzer, and number twenty terrier. He finished his Canadian championship in very fast order. He had a very positive response from the judges and breeders, who were impressed with his correct movement, conformation, breed type, and temperament. He is shown in the picture to the left winning Best In Specialty at the Miniature Schnauzer Club of Canada's National Specialty. To the right he is shown winning the Portland (OR) Miniature Schnauzer Club Specialty show in Jan., 2011 and completing the requirements for an AKC Grand Champion. Not too bad for a young boy just starting out his show career. Rocky was handled in Canada by his good friend Connie Krohn. He is an outstanding two-year old boy whom we hope will contribute to the improvement of the breed. And he has a few litters on the ground which look very promising and more litters coming up. See Pedigree (PDF)

This is our annual "puppy picture", taken by Vavra Photography of Gates, OR. These puppies are from two different litters, all sired by Robin, who is shown above. They are a rambunctious four months old and are usually bouncing off the walls. Yes, it was very hard to get them posed like this, but Jerry and Marty Vavra are great at what they do.


Welcome to Legacy Miniature Schnauzers! We're coming to you from Pasco, in the southeast part of Washington State, USA, where the Snake and Columbia Rivers merge.

We wanted to provide a useful, informative and entertaining site for people who view dogs as companions. Our particular breed is Miniature Schnauzers, but all dogs are special in ways each of us can appreciate. I'm reminded of an old quote: "To each dog, his master is Napoleon; hence, the popularity of dogs". That, after a fashion, sums up the undying devotion and friendship a good dog can provide, in return for your care and hospitality. In addition to the dogs, we've always had a cat or two around, and all pets get along great, in a sort of mutually respectful arrangement.

We've bred and shown dogs in AKC conformation and obedience events for some 37 years. Over time, one comes to understand the very unique and unparalleled nature of the canine/human connection. But you never cease to wonder, on occasion, at the sometimes inexplicable displays of communication these fuzzy little creatures can show us.





This site will always strive to provide worthwhile information, intended to advance the welfare of all dogs. We can never, however, compete with some of the special links that are provided (see Links). Your comments and advice are always welcome, and we hope you leave here with something of value.

Mack and Patty Ledgerwood




Legacy Miniature Schnauzers




2813 N Road 92




Pasco, WA 99301-1577




(509) 544-9350





Email comments or questions to:



Patty Ledgerwood

Members of:
American Miniature Schnauzer Club
Richland (WA) Kennel Club
Schnauzer Club of Victoria (Australia)

Copyright © 1996 Legacy Miniature Schnauzers




All Rights Reserved




Web pages designed and maintained by LegacyMS.




Last updated: Tuesday, January 30, 2018